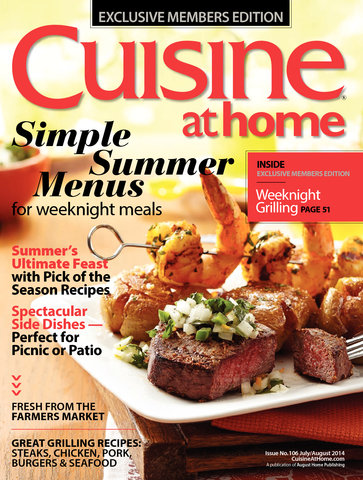 Subscribe Today!
Preview This Issue
Issue 106


August 2014
Table of Contents
Departments
4 FROM OUR READERS
6 Q&A
8 SUMMER SUPPERS
Whether you favor European cuisine or more down-home southern fare, you'll love these fresh menus.
14 GREEN BEAN SALAD WITH BURRATA & PROSCIUTTO
It's never been as easy to go green as it is with this simple yet snappy light vegetable lunch or dinner
16 GRILLED FLATBREAD PIZZA
With its thin crust, smoky flavor, and vast potential for toppings, you gotta love grilled flatbread pizza.
20 PASTA WITH PIZZAZZ
Fresh veggie sauce options for these two dinners mean you may never sauce pasta from a jar again.
24 CHICKEN MENUS
Make it easy on yourself to cut calories with Greek chicken pitas and a refreshing take on Indian food.
38 ZUCCHINI SLAW
42 A BETTER BURGER
With all the burger options out there, can you make one that's better than the rest? With this guide, yes!
46 SMALL PLATES
Simple and delicious is the name of the game when you let flavor be your guide to small meals.
48 ICE CREAM SANDWICHES
Once you have one of these grown-up ice cream sandwiches, you'll never go back to store-bought.
51 GREAT GRILLING MENUS
Follow the step-by-step photos for sizzling summer dinners grilled to perfection every time.
Feature
28 BACKYARD BRAZILIAN BBQ
Brazil is trending these days. Put its cuisine front-and-center with this Brazilian-inspired menu.
32 GRILLED PORK LOIN
Summer's here on one big plate with this brined and grilled pork, sweet tea glaze, and blackberry sauce.
34 MARKET FRESH SUMMER SALADS
Packed with the season's delicious produce, these updated salads are anything but traditional.