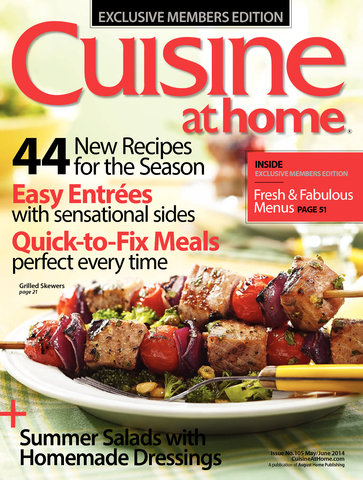 Subscribe Today!
Preview This Issue
Issue 105


June 2014
Table of Contents
Departments
4 FROM OUR READERS
6 Q&A
8 BLACKENED HAM & MELON SALAD
14 BLUEBERRY CORNBREAD WITH CORNMEAL STREUSEL
Sweet-tart and good for you, blueberries help you start your day in a super new way — cornbread.
16 RAMEN NOODLES
Easy, cheap, convenient, and readily available, ramen is an ingredient worth noodling over.
20 SICILIAN TUNA SKEWERS WITH LEMON-HERB DRESSING
24 GRILLED PORK MEDALLIONS WITH SMOKY DRY RUB
32 GRILLED WHOLE CHICKEN
Learn all the secrets to cooking a juicy whole chicken on the grill — then add the fabulous sides.
36 SHRIMP
Chill it, sauté it, fry it, wrap it … with so many tasty preparations, shrimp really is the star of the sea.
46 HOT DOGS
Let's be frank, hot dogs are an all-American treat. Try one tonight with one of these snappy toppings.
48 SLAB PIE
Super-size pie when you roll out this extra-large version with blueberries and a patchwork crust.
51 FRESH & FABULOUS MENUS
Look no further for dinners that are fast, fabulous, and nutritionally fresh with these full-meal menus.
Feature
28 DINNER FOR DAD
Let Dad relax while you man the grill this Father's Day and serve up a meal of steak house favorites.
40 KOREAN BARBECUE, MEXICAN STYLE
Takin' it to the streets — Korean barbecue meets Mexican taco truck favorites for a fusion feast.