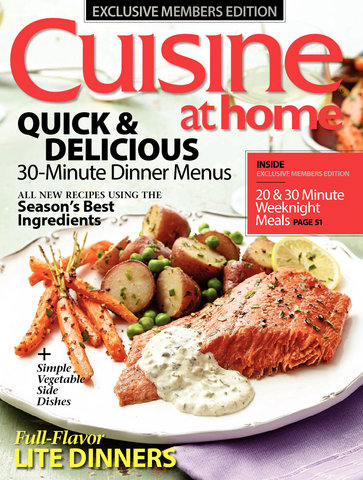 Subscribe Today!
Preview This Issue
Issue 104


April 2014
Table of Contents
Departments
4 FROM OUR READERS
6 Q&A
8 PAELLA RISOTTO WITH SHRIMP AND CHORIZO
14 PURÉED BEET SOUP
16 SOUR CREAM OLD-FASHIONED DOUGHNUTS
20 LAMB CHOPS WITH STRAWBERRY-BALSAMIC SAUCE
24 CLAMS CASINO PASTA WITH TOASTED BREAD CRUMB TOPPING
37 CORNED BEEF COLCANNON SOUP
42 CLASSIC GRILLED CHEESE SANDWICH
46 ASPARAGUS & PROSCIUTTO SALAD WITH LEMON VINAIGRETTE
48 IRISH CREAM CHEESECAKE
51 WEEKNIGHT MENUS
Making a wholesome dinner in a reasonable amount of time is what these menus are designed to do.
60 GRILLED ASIAN CHICKEN
Feature
28 UPSIDE-DOWN CHICKEN PIES
You'll literally flip for these updates to grandma's pot pie with biscuit and cornbread crust options.
32 SALMON FOR SPRING
From a special meal with a whole side of salmon to Japanese salmon cakes, this fish never tasted so good.