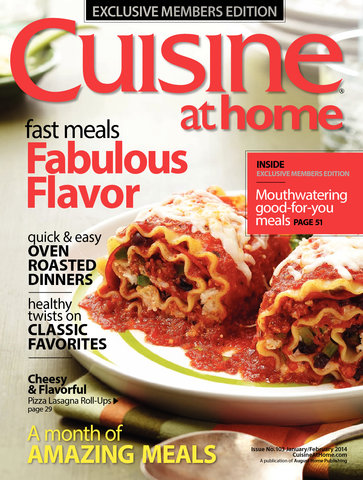 Subscribe Today!
Preview This Issue
Issue 103


February 2014
Table of Contents
Departments
4 FROM OUR READERS
6 Q&A
8 ROASTED SHRIMP WITH BROCCOLI & SHIITAKE MUSHROOMS
14 LEMON CURD BARS WITH COCONUT CRUST
16 TOFU MAC 'N CHEESE
20 POTATO & ONION RÖSTIS WITH ROASTED ROMESCO SAUCE
24 FLOUNDER PICCATA
38 ASIAN SLOPPY JOES
46 GREEK LENTILS & COUSCOUS
48 MOLTEN CHOCOLATE CAKES
Whip up these divine chocolate cakes and in just one bite you're sure to win your valentine's heart.
51 LITE MENUS FOR TWO
Partner up with your better half to adopt healthier eating habits this year — it's easy with these menus.
Feature
28 LOVIN' LASAGNA
If lasagna is popular in your house, try one of these simple twists to ensure it remains a hit.
32 FESTIVE FIESTA
Make this flavorful fiesta of recipes and all you need are margaritas and friends to get the party started.
42 SLOW-COOKER ROASTS
When it comes to spoon-tender beef or pork roast without work, the slow cooker is your go-to gadget.