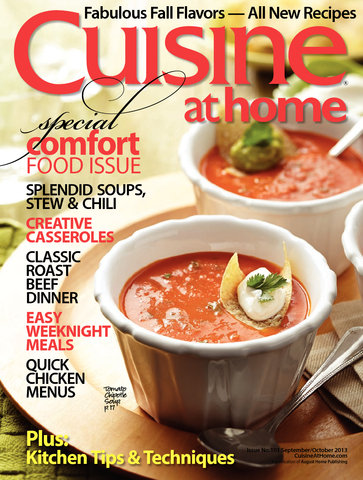 Subscribe Today!
Preview This Issue
Issue 101


October 2013
Table of Contents
Departments
4 FROM OUR READERS
6 Q&A
8 PAN-ROASTED PORK CHOPS WITH SKILLET POTATOES
14 STIR-FRIED LEEKS WITH SALT & PEPPER SHRIMP
16 TOMATO-CHIPOTLE SOUP
20 ROAST BEEF DINNER WITH HORSERADISH CAPER SAUCE
24 LIGHT CHICKEN FRANCESE WITH ARUGULA & APPLE SALAD
42 NO-KNEAD WHOLE-WHEAT BREAD
46 CHOCOLATE ALMOND MOLASSES CHEWS
48 SPICE CUPCAKES
Trick or treat ... or both? These caramel apple look-alikes are actually fun, festive cupcakes.
Feature
28 FALL COMFORT FOODS
Warm up with chili or stew, slow-simmered on the stove top or in a slow cooker — your choice!
32 IT'S BRUNCH TIME
Punch up brunch with German influence by adding pretzels to streusel, cherry to chocolate, and more.
36 CREATIVE CASSEROLES
Turn your favorite restaurant orders into casseroles the whole family will go crazy over.