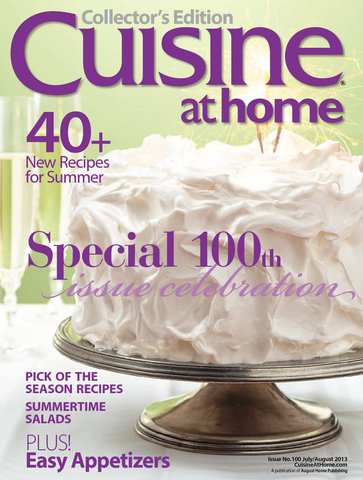 Subscribe Today!
Preview This Issue
Issue 100


August 2013
Table of Contents
Departments
4 FROM OUR READERS
6 Q&A
8 TUNA NIÇOISE SANDWICH WITH PROVENÇAL BEANS & POTATOES
14 CARAMEL CORN WHOOPIE PIES
18 SWEET & SALTY STEAK
22 STUFFED PORK MEDALLIONS WITH GRILLED SPINACH
26 SHRIMP COCKTAIL SALAD
42 SMOKED BEEF
Smoke meat like a pro with this easy technique, then gather friends and family for a fabulous feast.
46 4 EASY APPETIZERS
Summer's here, so let the good times roll with these quick and tasty tidbits.
48 ICE CREAM CAKE
Feature
30 KOREAN BEEF & NOODLE STIR-FRY WITH CHIVE PANCAKES
Spicy Korean kimchee and seared beef tenderloin make this stir-fry deliciously unique.
32 CREATIVE CHICKEN FIXES
Whatever cut of chicken you prefer, from wings to drumsticks, there's a recipe here for you!
38 POTATO SALADS
A must-have at every party, picnic, or potluck, one of these spud salads is about to be your new favorite.