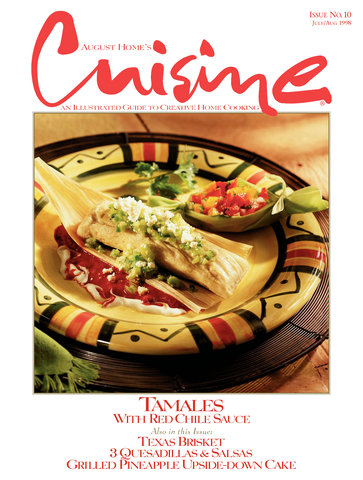 Subscribe Today!
Preview This Issue
Issue 10


August 1998
Table of Contents
Departments
4 TIPS AND TECHNIQUES
18 BROWNIES
I think brownies should be chewy and choclatey. Here they are.
20 WHAT'S HAPPENING IN FOOD
36 QUESTIONS & ANSWERS
44 BUILDING THE $8.00 BROWNIE
Feature
6 TAMALES
Tamales are one of those foods you like to order but never make at home. Here's your chance.
12 QUESADILLAS
There's more to these quesadillas than chicken and cheese. Presentation opens up the possibilities.
16 SALSAS
Here's a secret. When you can't decide on a sauce, make a fresh salsa. They go with any recipe.
21 CHILES
Maybe you feel the same way -- there's too many peppers out there for me to understand. Here's a basic pepper primer.
24 TEXAS BRISKET
I went to the experts to learn how to "smoke" good brisket. When you taste this, you'll think you're in the heart of Texas.
30 COWBOY BEANS
Baked beans don't always come from a can. Try these "Cowboy Beans" made with four beans.
31 CORN CAKES
These fresh corn cakes are just the thing to serve with smoked brisket and cowboy beans.
32 PRESSURE CANNING
The rules have changed about canning tomatoes. Here's what to do.
38 EDIBLE FLOWERS
Edible flowers make a great garnish. They also make great eating. Here's 10 varieties you can try.
42 GRILLED PINEAPPLE UPSIDE-DOWN CAKE
A little twist to a classic favorite. It's grilled and served with a Mexican favorite -- Cajeta.