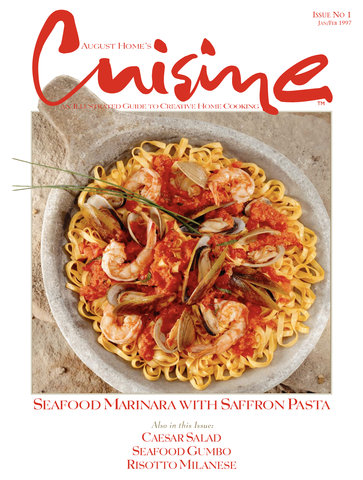 Subscribe Today!
Preview This Issue
Issue 1


February 1997
Table of Contents
Departments
4 TIPS AND TECHNIQUES
15 SAFFRON PASTA WITH SEAFOOD MARINARA SAUCE
16 SELECTING A SAUTE PAN
22 NORTHERN CORN BREAD
The flour and sugar make this cornbread a classic comfort food.
38 QUESTIONS & ANSWERS
41 WHAT'S HAPPENING IN FOOD
42 WHITE CHOCOLATE BANANA CREAM PIE
You've never tasted a banana pie this good.
44 GARNISHING
Feature
6 EASY BASIC PASTA
Making fresh pasta is easy, especially with these step-by-step instructions and a simple pasta machine.
12 MARINARA SAUCE
Fresh roma tomatoes and 30 minutes are about all you need for this authentic Marinara.
18 CAESAR SALAD
A powerful dressing, crisp romaine, and warm croutons make this a memorable salad.
26 HEARTY GREENS
These once overlooked greens accompany any dish now. They're pungent and full of flavor.
30 OLIVE OIL PRODUCTION
There are growers who still produce olive oil the way their ancestors did thousands of years ago.
32 SEAFOOD GUMBO
Hot, rich and filling. Authentic gumbo.