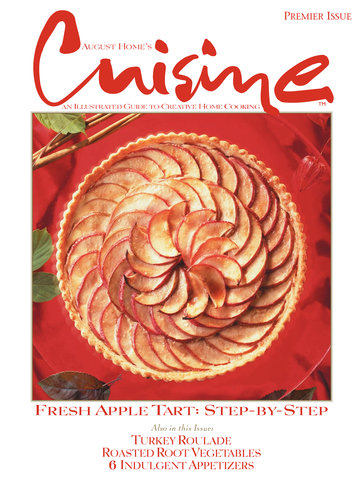 Subscribe Today!
Preview This Issue
Issue 0


October 1996
Table of Contents
Departments
4 TIPS AND TECHNIQUES
16 SELECTING A CHEF'S KNIFE
20 CORN PUDDING
This corn pudding will even make frozen corn worth eating.
39 WHAT'S HAPPENING IN FOOD
39 QUESTIONS & ANSWERS
42 APPLE TART
This tart only looks fancy. It's easy to make and perfect for the holidays.
44 GARNISHING
Feature
6 A NEW LOOK AT WELLINGTONS
A classic dish updated. Served with a delicious wine sauce and a unique turkey alternative.
12 6 INDULGENT APPETIZERS
Here are 6 impressive appetizers that are easy to make and worth every calorie.
18 WILD RICE
Traditional harvesting of true wild rice continues in the northern lakes.
25 TURKEY ROULADE
A turkey breast that isn't dry. And it can be made ahead of time.
30 DRESSED UP STUFFINGS
Three delicious stuffings you can use to flavor the Turkey Roulade.
32 ROASTED ROOT VEGETABLES
Roasting and the right seasonings makes these homely root vegetables sweet and flavorful.
36 THREE VARIATIONS ON DRESSING
Basic Bread, Wild Rice, and Apple Dressings. All three follow the same basic techniques.