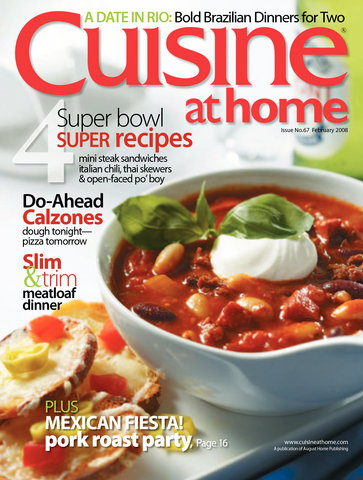 Subscribe Today!
Preview This Issue
Issue 67


February 2008
Online Extras
Recipes
Favorite Dinner Rolls
Makes: 35
Total Time:
Proof:
Whisk Together; Add Yeast Mixture to:
Stir in; Add, Knead, and Let Rise:
Proof yeast with sugar in water for 5 - 10 minutes, or until it "blooms" or swells. Whisk eggs, sugar, oil, and salt together in a large bowl. Add yeast mixture; whisk to combine. Stir 3 cups of flour into the egg mixture using a wooden spoon. Add more flour, 1/2 cup at a time; you may not need it all. When dough becomes too stiff to stir, turn it out onto a floured work surface and knead by hand. Knead until dough is smooth but still soft, adding flour a little at a time if it is too sticky. Place dough in a bowl coated with nonstick spray. Cover with a kitchen towel and let rise in a warm place until doubled in size, 1 - 1 1/2 hours. Punch down dough and gather into a ball. With floured hands, shape pieces of dough into balls. (For dinner rolls, make them a bit larger than a golf ball. For cocktail buns, shape them ping-pong ball size. Hamburger buns should be slightly smaller than a baseball.) Arrange on greased baking sheets about 1/2" apart. Cover with a towel and let rise again until doubled, about 45 minutes. Preheat oven to 350°. Bake rolls 25 - 30 minutes, or until golden, then top as desired, see right. Cool slightly before serving — if you can wait that long! Immediately after baking, brush the rolls with melted butter, then sprinkle with a topping. Choose one or several for variety: grated parmesan cheese; toasted fennel, sesame, or caraway seeds; poppy seeds; equal parts dried dill, sugar, and kosher salt; cinnamon-sugar.
Nutrition Info:
Per None: 132 cal; 4g total fat ( sat); chol; 136mg sodium; 21g carb; 1g fiber; 0g protein
White Chocolate Cocoa
Makes: 4
Total Time: 15
Melt:
Whisk in:
Add and Heat:
Garnish with:
Melt white chocolate in a heavy saucepan over low heat. Stir constantly to make a smooth mixture and prevent scorching. Whisk in coffee and vanilla until blended. Add milk, half and half, orange zest, and salt. Heat just until steam starts to rise from the surface—do not allow to boil. Divide cocoa among coffee cups. Garnish each serving with a sprinkling of freshly grated nutmeg.
Nutrition Info:
Per None: 333 cal; 23g total fat ( sat); chol; 143mg sodium; 26g carb; 0g fiber; 0g protein
Three Mushroom Ragu
Makes: 4
Total Time: 60
Prepare:
Saute in 3 T. Olive Oil:
Deglaze with:
Add and Simmer:
Finish Ragú:
Toss Ragù with:
Prepare pasta. Saute shallots for ragù in 1 T. olive oil in large saute pan over medium heat. Add 1 T. more oil, increase heat to high, and saute mushrooms in batches until browned. Transfer to a plate. Add more oil to pan, and saute remaining mushrooms. Return all mushrooms back to the pan. Deglaze with sherry and simmer until liquid evaporates. Add tomatoes, balsamic, and paste. Reduce heat to low and simmer until thick, 15 minutes. Finish ragù by stirring in mascarpone, herbs, salt, and pepper. Toss ragù with cooked and drained fettuccine to coat.
Nutrition Info:
Per : 348 cal; 15g total fat ( sat); chol; 197mg sodium; 42g carb; 0g fiber; 0g protein
Candied Hazelnuts
Makes: 1/2 Cup
Total Time: 10 Minutes
Toast hazelnuts in a nonstick skillet over medium heat until golden. Add sugar and butter; stir until butter is melted and sugar adheres to the nuts. Transfer to a parchment-lined baking sheet to cool.
Nutrition Info:
Per : cal; total fat ( sat); chol; sodium; carb; fiber; protein
Videos
Poaching Eggs
Shaping Mini Calzones
Sources
A few of our favorite things
Black & Decker Slice Right
www.bdappliancestore.com
BDApplianceStore.com
20 Constitution Blvd. South
Shelton, CT 06484
Cuisinart
www.cooking.com
Cooking.com
Customer Service
2850 Ocean Park Blvd., Suite 310
Santa Monica, CA 90405
1-800-663-8810
The Sonic Blade
www.walgreens.com
Walgreens.com
1-866-522-8007
Table of Contents
Departments
4 TIPS AND TECHNIQUES
6 PIZZA IN THE ZONE
Why call the delivery guy when you can have these calzones for dinner? Making them is easier than you think.
12 CHICKEN AND SHRIMP IN TOMATO COCONUT SAUCE
16 BRAISED PORK SHOULDER
The vibrant flavors of Mexico shine in this practically one-pot meal. Although it takes some time, this is oh so worth it.
22 SLIM & TRIM MEATLOAF
Craving comfort but don't want to blow your New Year's resolution? That's okay. This menu won't lead you astray.
26 A FEW OF OUR FAVORITE THINGS
Inquiring minds want to know...and we're sharing. The Cuisine staff reveals their favorite kitchen tools.
28 OLIVE OIL
It's easy to take this kitchen staple for granted, but a lot goes into each bottle of olive oil. Once you read this article, you'll buy it with confidence.
32 BASIC RECIPES
It's always good to have an arsenal of essential recipes by your side. Here are four you'll come back to again and again.
34 CHICKEN PAPPARDELLE
40 SHRIMP PO' BOY
Make some fans of your own at this year's Super Bowl bash - serve these super snacks!
44 QUESTIONS & ANSWERS FROM OUR READERS
52 ITALIAN "NACHOS"
A no-brainer accompaniment to the chili on Page 43, serve these nachos with spaghetti and meatballs too.
Feature
46 SMALL AND MIGHTY
Cupcakes aren't just for kids anymore, and these recipes prove it. They've got lots more flavor (and tons more frosting!).