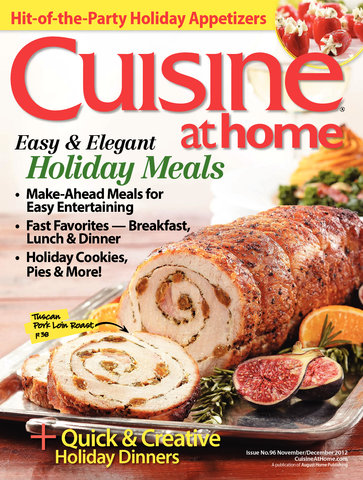 Subscribe Today!
Preview This Issue
Issue 96


December 2012
Online Extras
Recipes
Chicken Liver Paté Canapés with mini bread bowls
Makes: 24 canapés
Total Time: 1 hour
FOR THE BREAD BOWLS, ROLL:
FOR THE PATÉ, SAUTÉ:
DEGLAZE:
Preheat oven to 350°.
For the bread bowls, roll each bread slice to 1⁄16-inch; cut 24 rounds with a 2¼-inch cutter. (Scraps can be used for bread crumbs.) Brush both sides of bread rounds with 2 Tbsp. oil and press into the cups of a mini muffin pan.
Bake bread bowls until crisp, about 10 minutes; cool before filling.
For the paté, sauté shallots in 1 Tbsp. oil in a sauté pan over medium heat until softened, about 3 minutes. Add garlic; cook until fragrant, 1 minute. Add chicken livers; sauté until cooked through, 5–6 minutes.
Deglaze pan with brandy, scraping up any browned bits. Transfer liver mixture to food processor; add cream, lemon juice, and thyme and pulse until smooth. Season mixture with salt and pepper. Transfer paté to a bowl; cover and chill before serving.
Scoop about 1 tsp. (#100 scoop) paté into each bread bowl. Garnish each canapé with a small dollop of Dijon, then top with a cornichon.
__NOTE:__ The paté can be made up to a few days ahead, covered, and refrigerated. And you can make the bread bowls a day ahead. Store them overnight in an airtight container. If they soften, crisp them on a baking sheet in a 350° oven for 5 minutes, but be sure to let them cool before filling.
Nutrition Info:
Per Per canapé: 66 cal; 3g total fat (1g sat); 35mg chol; 75mg sodium; 6g carb; 0g fiber; 2g protein
Tuscan Kale Chips
Makes: about 12 chips
Total Time: 30 minutes
Preheat oven to 300°. Place a baking rack inside each of two baking sheets.
Combine oil, salt, lemon pepper, garlic powder, and onion powder.
Toss kale in oil mixture until lightly coated. Arrange kale in a single layer on prepared baking sheets.
Bake kale 10 minutes, then flip, and rotate baking sheets. Bake kale until crisp, about 10 minutes more.
__NOTE:__ Kale chips can be made a few days ahead. Store the chips in an airtight container, taking care not to crush them.
Nutrition Info:
Per Per chip: 46 cal; 5g total fat (1g sat); 0mg chol; 50mg sodium; 1g carb; 0g fiber; 0g protein
Table of Contents
Departments
4 FROM OUR READERS
6 Q&A
8 ROASTED GAME HENS WITH WINTER VEGETABLE TRIO
14 EVERYTHING ORANGE
Deck your table with oranges this holiday when you turn the citrus stars into delicious sweet treats.
16 PREPPED TO PARTY
Eat, drink, and be merry with your guests when you host this make-ahead cocktail and appetizer spread.
20 PESTO & CHEESE STUFFED SHELLS WITH TWO-CHEESE PIZZETTES
38 TUSCAN PORK LOIN ROAST WITH WHITE WINE PAN SAUCE
46 ORANGE-COCONUT SHRIMP
50 PUMPKIN CREAM PIE WITH GINGERSNAP CRUST
Pumpkin pie is a star at Thanksgiving, and this ultra-creamy version deserves a standing ovation.
Feature
24 THANKSGIVING FEAST
Thanksgiving dinner is all about tradition. Breathe new life into the classics with these subtle updates.
28 HOLIDAY COOKIES
Dust off your apron and share the magic of the season with these delicate, buttery bites.
32 MAKE-AHEAD MEALS
Sit back and relax this holiday season when you're prepped and ready for breakfast, lunch, and dinner.
42 A FONDUE FÊTE
Party around the fondue pot this holiday season, and your guests are sure to be merry and bright.