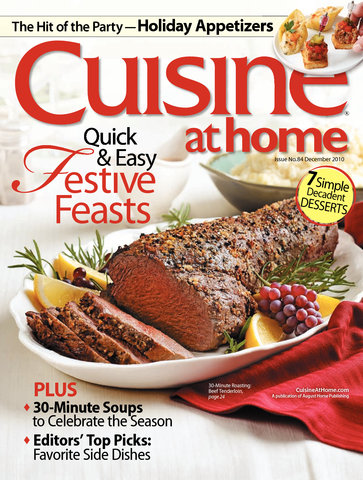 Subscribe Today!
Preview This Issue
Issue 84


December 2010
Table of Contents
Departments
4 TIPS & TIMESAVERS
6 PECANS
Put your nutcracker to good use this holiday with a perennial favorite -- pecans. Turn them into two treats-in-one with a candy brittle-bark that's perfect for gifting.
8 SEAFOOD SOUPS
Warm up tonight with one of these satisfying seafood soups. From stove top to table in 30 minutes -- they're sure to please everyone, including the cook.
12 ROASTED BRUSSELS SPROUTS
18 OVERNIGHT ENTERTAINING
Master the art of entertaining overnight guests with make-ahead meals. You'll be able to celebrate right along with friends and family for breakfast, lunch, and dinner.
24 HIGH HEAT ROASTING
High-heat roasting comes home for the holidays. This technique of maximum heat with minimum time is the quick way to family or friends' hearts (and stomachs).
28 MINI OPEN-FACED MEATLOAF SANDWICHES
32 THANKSGIVING
36 WHOOPIE PIES
Shake up your holiday cookie platter with these nostalgic, cream-filled treats. Are they cookies or cakes? One bite and all you'll care about is that they're delicious!
42 TURKEY LEFTOVERS
Not sure how to make use of all the leftovers from the big bird? Add just a few pantry staples and you can have three delicious entrées ready in 30 minutes or less!
44 Q&A
46 CAKE AND PIE
Pumpkin, butterscotch, and elegance -- oh my! For desserts worthy of the holiday table, look no further. You're sure to please everyone this holiday season if you make both.
Feature