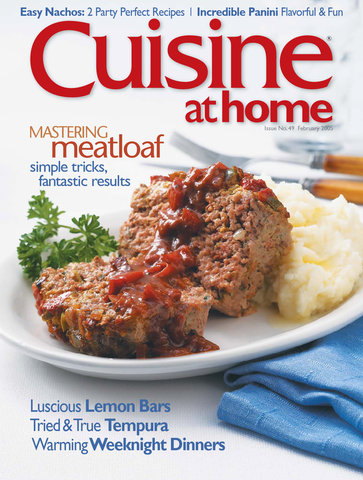 Subscribe Today!
Preview This Issue
Issue 49


February 2005
Online Extras
Recipes
Lemon-Braised Squash
Makes: 2
Total Time: 25
Bring broth, honey, butter, lemon juice, and seasonings to a simmer in a nonstick skillet over medium-high heat.
Add squash and toss to coat with sauce. Reduce heat to medium and simmer, stirring occasionally, until squash is cooked and sauce is reduced and thickened, about 15 minutes.
Nutrition Info:
Per 1/3 cup: 108 cal; 6g total fat ( sat); chol; 297mg sodium; 15g carb; 2g fiber; protein
Basil Pesto
Makes: 6
Total Time: 10
Process basil, Parmesan, pine nuts, lemon juice, salt, garlic, sugar, and pepper flakes in a food processor until minced. Scrape down sides of work bowl.
Drizzle in oil with machine running. Use immediately or cover and chill.
Nutrition Info:
Per 2 T: 129 cal; 13g total fat ( sat); chol; 351mg sodium; carb; 1g fiber; protein
Cheddar Potatoes
Makes: 8
Total Time:
Boil then Drain:
Press or Whip Potatoes; Add:
Boil potatoes in salted water to cover for 15–25 minutes or until tender when pierced with a knife. Drain, return to pan, dry 1 minute. Press potatoes through a ricer or whip with a mixer at slow to medium speed, adding the cheese, butter, milk, and mustard. Season with salt and white pepper to taste.
Nutrition Info:
Per 1/2 cup: 150 cal; 6g total fat ( sat); chol; 297mg sodium; 19g carb; 1g fiber; protein
Videos
Sources
Table of Contents
Departments
4 TIPS
6 MEATLOAF PERFECTED
This meatloaf is kid-tested and family-approved -- you can't get a tougher audience than that! The Chunky BBQ Topping is awesome!
12 A MASTER'S CLASS: STEAK DIANE
A tribute to one of America's most well-known and respected kitchen personalities. This recipe is just one of Julia Child's memorable moments.
16 JAPANESE TEMPURA
Leave it to the Japanese to make fried food a fine art! If you're going to splurge on fat and calories, I can't think of a better way to do it.
21 LEMONS
By far the most valuable and versatile fruit in your kitchen -- inside and out.
24 STUFFED PORK CHOPS
Small households shouldn't have to sacrifice good eating, so treat yourself to these chops.
32 BASIC CUISINE
A few simple kitchen tricks can make all the difference. Brush up on roasting garlic, boiling pasta, pitting olives, and slicing a bell pepper.
34 SANTOKU KNIVES
These quirky-looking knives are HOT! But are they worth all the hype and money?
36 WIENER SCHNITZEL
42 Q&A
46 4 FABULOUS PANINI
Which panini should you start with? Don't worry, you can't go wrong with any of them.
52 BANANA TRIFLE PARFAITS
Feature
22 GOLD RUSH: TANGY LEMON BARS
A buttery almond base is topped with pucker-up tart lemon curd. These are lemon bars to die for!
28 FAJITA NACHOS
'Tis the season for football, and these nachos are the perfect game-day repast. Set up a build-your-own nacho bar and listen to the people cheer!
45 PRESSING MATTERS: MAKING PANINI SANDWICHES
If you can make grilled cheese, you can toast panini sandwiches. No fancy panini press required -- these are decidedly low-tech but still darn delicious.
48 FROM HUMBLE TO HIGH CLASS: BANANA CREAM PIE
Talk about an extreme makeover! You'll hardly recognize this new and improved banana cream pie.