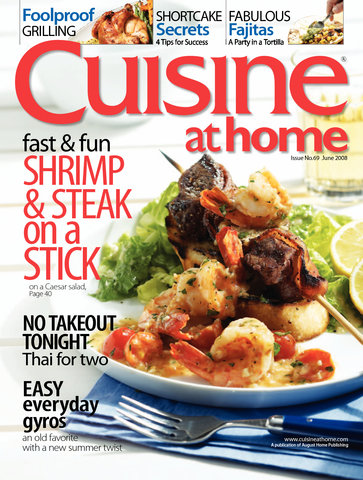 Subscribe Today!
Preview This Issue
Issue 69


June 2008
Online Extras
Recipes
Grilled Skirt Steak
Makes: 4
Total Time:
Trim off Fat and Silverskin:
Marinate Steak in:
Trim off as much fat as possible from both sides of skirt steak. Some of it is loosely attached and can be removed by hand. Otherwise, use a knife for places where it's firmly attached. Trim off as much silverskin as you can. Marinate steak in olive oil, lime juice, brown stugar, crushed red pepper flakes, and garlic for 15–30 minutes. Preheat grill. When hot, remove steak from marinade and season with salt and pepper. Place steak on grill, cover, and cook until seared, 2–3 min. Flip steak over, cover, and cook another 2–3 min. Transfer meat to a cutting board, tent with foil, and let steak rest 5–8 minutes before slicing.
Nutrition Info:
Per None: 335 cal; 18g total fat ( sat); chol; 112mg sodium; 5g carb; 0g fiber; 0g protein
Angel Hair Scampi (Duplicate-Delete)
Makes: 4
Total Time: 30
Crisp; Add Olive Oil:
Saute:
Deglaze; Simmer, Reduce by Half:
Add; Return Shrimp to Pan:
Cook According to Package:
Toss with:
Bring water to a boil for cooking pasta. Crisp prosciutto in a saute pan over medium-high heat; remove. Add 2 T. oil. Saute shrimp, garlic, and pepper flakes for 2 minutes; remove shrimp from pan. Deglaze with wine and lemon juice, and simmer until reduced by half, about 3 minutes. Add tomato, scallions, rosemary, lemon zest, and seasonings; cook 1 minute. Return shrimp to pan and cook 1–2 minutes, or until firm. Cook and drain pasta. Toss with parsley, then divide evenly among serving plates. Top pasta with shrimp sauce, drizzle each serving with olive oil, then sprinkle with some crisp prosciutto.
Nutrition Info:
Per None: 501 cal; 12g total fat ( sat); chol; 401mg sodium; 47g carb; 3g fiber; 0g protein
Balsamic vinaigrette
Makes:
Total Time: 10
Whisk all ingredients together in a small bowl. Use immediately or cover and chill in the refrigerator for up to 1 week.
Nutrition Info:
Per : cal; total fat ( sat); chol; sodium; carb; fiber; protein
Videos
Preparing Rangoon
Making Garlic Paste
Peeling & Deveining Shrimp
Sources
Electric Skillets
Cuisinart Electric Skillet
www.bedbathandbeyond.com
Bedbathandbeyond.com
Customer Service
1-800-462-3966
Black & Decker Multi Cuisine Grand Skillet
www.bdappliancestore.com
BDApplianceStore.com
20 Constitution Blvd. South
Shelton, CT 06484
Presto 16? Electric Skillet
www.target.com
Target.com
1-800-591-3869
Table of Contents
Departments
4 TIPS
6 MOLE-RUBBED SKIRT STEAK FAJITAS
In the '80s, you couldn't get enough of fajitas, but over time they've lost a little luster. These will bring the shine back.
12 CILANTRO PESTO HALIBUT
Wildly flavorful and loaded with texture, this Thai-inspired fish dish is perfect for warm summer evenings.
16 INDIRECT GRILLING
If there's one technique you should try this summer, make it this one. This could change the way you grill forever.
22 THAT'S AMORE
Wheat crust plus loads of mushrooms equals one satisfying pizza party.
26 ELECTRIC SKILLETS
These plug-in pans have been around for decades. After trying them, it's easy to see why they've lasted the test of time.
28 SHRIMP
This up-close look at what may be the world's most popular seafood proves there's more to shrimp than what meets the eye.
32 BASIC RECIPES
You never know when you'll need a good recipe for Caesar salad or chocolate sauce. Don't worry - we've got you covered.
34 GREEN, EGGS AND HAM
Breakfast, brunch, or dinner—this riff on bacon, eggs, and cheese will brighten your table no matter what time of day it appears.
42 Q&A
44 SALADS ON THE GRILL
Yes, you can grill anything! These salads are a refreshing change of pace from lettuce-and-tomato options.
52 SHRIMP RANGOON
Shrimp breathes new life into this Chinese takeout staple.
Feature
40 SURF & TURF ON CAESAR SALAD
Upscale steakhouse meets backyard grill in this variation of steak and shrimp.
48 SHORT AND SWEET
Summer says shortcakes - usher in the season with two dynamite recipes.